MAINTENANCE
Care Instructions
The following provides care instructions and explains important points concerning faucet mounts, pitchers, and their filters.
Faucet Mount Type
Prepare a clean toothbrush and a dry cloth. Remove the water purifier from the faucet.
Water purifier outlet
MK Series

Always use a clean toothbrush to wash the water purifier outlet. A used toothbrush may leave behind bacteria that will grow in water where the chlorine has been removed by the filter.
SX Series

Remove buildup with a clean toothbrush while running the tap. After rinsing thoroughly, wipe dry with a clean cloth.
Tap water spout and other parts
Clean the tap water spout and other parts with water using a clean toothbrush.
MK Series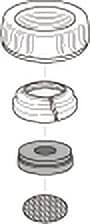 SX Series
Valve Body Surface
Clean the unit with wet cloth. Don't use soap (detergent, cleaner, bleach, abrasive), thinner, benzene, alcohol (sterilization chemicals, disinfectant for hands) or kerosene to clean the unit. If the soap is attached, clean with wet cloth immediately to eliminate soap on the surface of the unit.
Soap may mix with water running through or cause cracks, scratches or change in shape or color of the resin.
Don't use the steam cleaner.
If the soap is attached the metallic body (silver colored unit), it may lose luster of the body.
MK Series
SX Series

Washing the unit each time the cartridge is changed will ensure that it always remains clean.
Pitcher Type (Model PT502V shown)

Remove all parts. Wash with a clean sponge and mild dishwashing liquid. Thoroughly rinse all parts. It is recommended that you clean the unit once every two days.
Avoid using abrasive cleaners, chemicals, scrub brushes, or other harsh materials, as they may result in cracking, discoloration, deformation, or other damage to the unit.
※ Do not wash the filter cartridge.
※ Do not wash in the dishwasher.
Filter cartridges for pitcher type models should be changed every two months. Please do not forget to change the filter cartridges according to this schedule.